Establishment of Disaster Resilient Sewerage Network System
Based on the lesson of the 1995 earthquake, damaged sewer pipes have been repaired.Then, sewerage network system has been established, which connected 5 Wastewater treatment plants (WWTPs).
This system makes it more efficient to allow for sewage treatment for reconstruction, or when natural disasters occur.
Owing to these functions, Chubu WWTP was closed at the end of April 2011.
Suzurandai WWTP is located at a high elevation, near Mt. Kikusui (486 meters above sea level), so it releases treated water in the river (only in one direction).
In contrast, 3 WWTPs (Tarumi, Chubu and Higashinada) are able to send and receive the wastewater one another.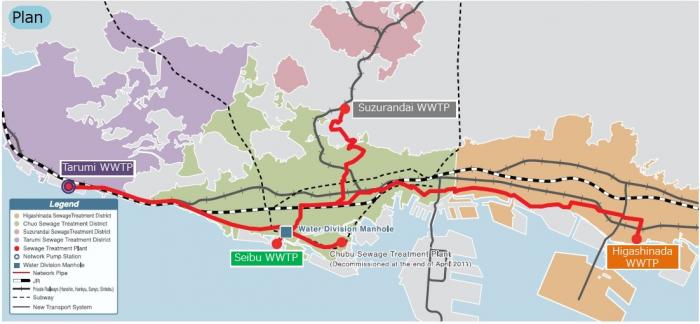 Network Treatment System
The wastewater system relies on the force of gravity to transport sewage from homes or other sources to Wastewater treatment plants (WWTPs). So WWTPs are located on low ground, often near a river into which treated water can be released. Then sewage water can travel towards WWTPs via buried pipes and pumping stations, and in a flow aided by gravity and pumps. Networking makes it possible to ensure backup functions in an emergency through this mechanism.
Normal Period
3 WWTPs (Tarumi, Seibu, Higashinada) share sewage treatment capacity using trunk sewers.
Storage Period
Storage capacity of connecting sewers allows efficient treatment of sanitary sewage, changing its schedules and providing relatively constant procedures.

Emergency Period
The WWTP inflow is usually controlled by using gates of the final collector pipe, which connects the Trunk Sewer.
By closing some inflow gates and creating a water level difference, wastewater are transported to other WWTPs.