Hide Kawanishi (1894 - 1965), a renowned woodblock print artist from Kobe, produced series of work titled "One Hundred Scenes of Kobe (Kobe Hyakkei)" twice in his lifetime. The first time between 1933 - 1936 he depicted the bustling cityscapes and lives of prewar days of Kobe. The second time, he produced poster color drawings of the changing city after the World War in the number of another one hundred in 1952 - 1953. Having revised or re-drawn one third of the latter, he published the "Collection of Artwork - One Hundred Scenes of Kobe (Kobe Hyakkei)" in 1962.
In his collection book published in 1965, Kawanishi wrote "I have never had a teacher of painting. I am absolutely self-educated and have painted what are not paintings. Having walked and found my own path, I am just what you may call a dilettante. I may complain about losing my youth, but there are things that I shall never lose such as innocent mind and thrills, creativity, originality, and a fresh sense of popularity and clarity. To become plain is the last thing I want to be." This "One Hundred Scenes of Kobe (Kobe Hyakkei)" is, I believe, a straightforward representation of his words.
Enchanted by Kawanishi's One Hundred Scenes of Kobe, I haunted around the city for two years visiting the locations of those scenes one by one. I must say that I was driven by the magic of Hide Kawanishi in his enthusiasm of grasping the deep spirit and fantasy of Kobe out of the unique architecture scattered in the city.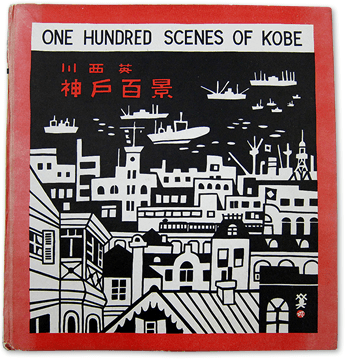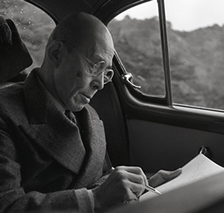 On his post-war version, it is not necessarily known that along with his prints, one hundred essays were written by the Kobe-related one hundred people as well as the English explanations of the respective prints. I must say it was a great idea of the publisher's to prepare the English text to make it useful for the tourists from abroad. The original Japanese text had been written by Yasuyoshi Morimoto, editor of the album which was translated into English by Yuzo Iseki at the American Cultural Center, Kobe. From this website we hope that you will enjoy Hide Kawanishi's full "One Hundred Scenes of Kobe (Kobe Hyakkei)" along with the English version of the text. It is our sincere wish that you may find these artworks as well as many people's thoughts on them, worth remembering for long.
Takayuki Kita ( Traveler of the "One Hundred Scenes" )