Higashinada Ward Danjiri Festival
Last update

03/25/2008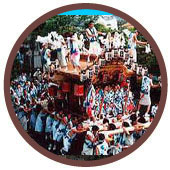 The annual Danjiri festival is one of the highlights of the year in Higashinada Ward. Every May participants race through the streets pulling Danjiri floats representing the ward's various districts and the whole area comes alive with festivalgoers.
What is a 'Danjiri'?
A Danjiri is a float that is often used for festivals in the Kansai region of Western Japan. The floats have wheels and have decorations such as human figures, plants, birds and animals on top. During festivals, people parade the floats around the streets and give musical performances. The Danjiri floats in Higashinada Ward are different to the usual floats such as the ones used in Kyoto's Gion Matsuri in that they do not have Hoko or spear shaped weapons on them.
The history of Higashinada Ward Danjiri festival
It is said that people were already using Danjiri floats for village festivals back in the Edo period (1600-1868). The Danjiri float belonging to Chaya district in the Sumiyoshi area was made in 1838 and is one of the oldest existing Danjiri floats in Higashinada Ward. However, since this float was purchased from Tennoji, Osaka, in 1979, the oldest float actually made in Higashinada Ward is said to be the one in Sora district, which dates back to 1877.
1892
Hokura Shrine float-parade held for the first time (Sanjo, Tsuji, Kitahata, Tanabe, Shoji, Nakano)
Around 1930
Many new floats purchased in celebration of Emperor Showa's accession to the throne
During the World War 2
Parade suspended for three years due to the war
1965-1974
A number floats were incinerated and others were transferred to other areas due to traffic regulations and a decline in the number of youths wanting to carry floats in the parade. The local community weakened considerably and many districts stopped participating in the parade.
1975-1984
The Danjiri tradition underwent a revival and began to increase in popularity once again
1976
The Okamoto district Danjiri float joined the Kobe festival for the first time
1979
The Danjiri float tradition returned to Chaya district. The Yuzuruha Shrine Danjiri festival was held for the first time in 18 years
1980
Seven Danjiri floats from Sumiyoshi districts gathered together at Moto-sumiyoshi Shrine for the first time in 35 years
1985
The Naka-mikage district Danjiri float was repaired for the first time in 65 years. Uozaki district brought their float out for the first time in 40 years
1986
The Danjiri floats in Noyori district were brought back afetr 41 years and in Tomyo district for the first time in 45 years
1987
"Motoyama Danjiri Parade" held for the first time to commemorate the opening of Yamate artery road on May 4th. The Hama-mikage district Danjiri float was used for the first time in 42 years
1988
The Danjiri float in Mikage-honmachi district was brought back after 43 years
1990
Higashinada Danjiri parade was held on November 12th to celebrate Prince and Princess 's wedding
1993
Higashinada Danjiri parade was held on June 9th to celebrate Crown Prince and Princess's wedding. Twenty-eight floats participated
1995
The Great Hanshin Earthquake struck Kobe on January 17th. Approximately 1400 people were died in Higashinada Ward. Shrines and floats were badly damaged and the Danjiri festivals were cancelled.
A Danjiri musical performance was held in front of JR Setsu-motoyama Station on May 4th
1996
Twenty eight Danjiri floats were carried out and displayed from May 3rd through 19th to reflect the ward's hope for a swift recovery from the earthquake
1998
Eight Danjiri floats from Mikage district ran across the Akashi Strait Bridge to mark the occasion of the bridge's opening