Kobe International Club
Last update

03/17/2016

The Kobe International Club is a worldwide networking initiative that aims to bring together people around the world who love Kobe and want to support the city. The International Club is a platform for members to promote Kobe and provide useful information about the city.
The first branch of the club, the "Kobe International Club Silicon Valley" was founded on February 29, 2016. This branch mainly consists of Kobe University Alumni Association's San Francisco branch members, who met the Mayor during his visit to San Francisco in June, 2016.
The Mayor will promote this initiative, calling upon local groups to consider founding their own branches of the Kobe International Club on various occasions such as overseas business trips.
Kobe International Club News
1.Who can join the Club?
Anyone, regardless of nationality, who currently lives abroad and has experience studying, working or living in Kobe, or who wishes to support Kobe is welcome to join the club.
2.Suggested activities
・Promoting Kobe through local events, social media etc.
・Providing useful information related to city promotion for Kobe's development
・Regularly holding local meetings
・Making efforts to increase club membership
3.Club Organization
・Chairman: Mayor of Kobe
・Secretariat: International Department, Office of the Mayor
・Membership fee: Free of charge
・Sending information to members: Information about Kobe provided in a monthly newsletter

4.Club logo
The club logo was designed by Creative Director of the Kobe City Government, Mr. Yoshihiko Yamasaka.

The club logo was designed by combining four of the city emblems to create a representation of the earth. It portrays Kobe's expanding impression on the rest of the world. It can also be viewed as a large flower that, like Kobe's future, is blooming.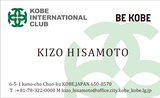 (Sample Business Card)
※Business Card data will be sent to members.

5.Membership Inquiries
For inquiries please contact:  kokusai@office.city.kobe.lg.jp