Outline of Kobe
Last update

06/09/2017
Kobe is a vibrant port city and hub for people, information and goods from around the world. Kobe's location nestled between the mountains and sea gives the city beautiful natural diversity - skiing on the Rokko Mountains, relaxing in the Arima Onsen Hot Springs, or playing at the beach; Kobe has a laid-back and open atmosphere which can be enjoyed all throughout the year.
Kobe is a great choice not only as a tourist destination but also as a place to do business, with a wide range of industries and outstanding business environment.
What's more, Kobe's safety and friendliness and excellent infrastructure (whether it be medical, educational or recreational) give the city everything needed for a comfortable lifestyle.
Kobe in Numbers
History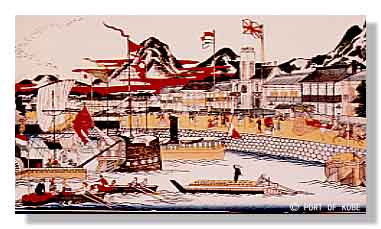 Located almost at the centre of the Japanese archipelago on the Seto Inland Sea, Kobe has developed along with the opening of the Port of Kobe in 1868. A Foreign Settlement that formed near the port became the doorway by which foreign cultures entered Japan. This settlement also played an important role in bringing a stylish and modern atmosphere to the entire city.
At the same time, various industries began taking shape at the Port of Kobe. Western clothes, furniture, cakes and shoes as well as heavy industries such as marine transport, industrial machinery, shipbuilding and the iron and steel industries appeared one after another, spurring on the local economy.
In 1995, Kobe and the surrounding area were struck by the Great Hanshin-Awaji Earthquake, causing 4,751 deaths within the city and destroying or damaging much of the city's infrastructure. In the years since, with considerable help and support from people throughout Japan and the world, the citizens of Kobe have rebuilt the city into the hub it is today.
Tourism
Kobe is home to many attractions, including:
Arima Onsen, one of the oldest Hot Springs in Japan and in the top three nationwide
The "ten million dollar night view" from the top of Mt. Rokko, one of the top three night views in Japan
Akashi Kaikyo Bridge, the longest suspension bridge in the world
Kobe beef, the world famous melt-in-your-mouth beef
Sake breweries, where you can see how sake is produced
Chinatown, buzzing with food stalls and lanterns
The Old Foreign Settlement, designed by an Englishman over 100 years ago and now home to high-end fashion and boutique stores
Major Events
Chinese New Year Festival, held in Chinatown
Kobe Matsuri, the city's biggest festival
Kobe Marathon, a race with a beautiful coastal course
The Kobe Luminarie, a yearly illumination event with thousands of beautiful lights
Kobe City Main Projects