CAUTION: INVASIVE FIRE ANTS
Last update

06/19/2017
On the 13 June 2017 the Japanese Ministry of the Environment announced that "Fire ants, an invasive species possessing a strong venom and originating from South America, have been discovered in Japan for the first time. The ants originated from a container which had stopped at the port of Kobe on route to another destination".

In light of this information from the Ministry of the Environment, the Kobe City Government immediately launched an emergency investigation, in cooperation with the relevant Port Bay stakeholders. As a result of this investigation on the 18 June individual fire ants were confirmed at the Port Island Number 2 Container Yard, and in conjunction with the Ministry of the Environment and experts, an emergency extermination was carried out using insecticide.

At present, no fire ants have been confirmed at any other locations, however a thorough investigation and pest control will be carried out in continuation of the above investigation, and all efforts will be put into preventing any potential harm from occurring.

In the unlikely event that fire ants are discovered, please pay close attention to the following:
What to do if you see fire ants
Fire ants possess a strong venom, so do not allow bare skin to come into contact with them, and inform the Kobe City Government Crisis Management Office (Tel: 078-322-6482), or the Ministry of the Environment Kansai-region Environment Office (Tel: 06-4792-0706) immediately.
Fire ants can be exterminated with ant pesticide which is widely available in stores.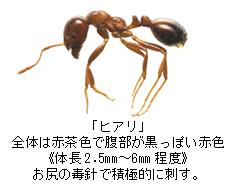 Fire Ant
Red-brown coloured body with a black-red coloured abdomen
Size: 2.5-6mm
Will sting aggressively using the sting located on its abdomen
What to do if you are stung by a fire ant
Rest and remain still for 20-30 minutes after you are stung, being aware of any changes in your condition
In the event that your condition changes suddenly, call an ambulance or otherwise seek attention at a medical facility immediately.
For inquiries – Fire ant inquiry line
09:00-17:00 (078)322-6250